They say it takes a village to raise one child, let alone two.
For the Pavlešić family, the old adage rings true.
On those cold, frosty winter mornings when football season was in full swing, Anthony and Adam Pavlešić's parents would be up early, driving their kids all across Sydney to games.
And if the parents couldn't drive?
"The grandparents, the uncles, the aunties, it doesn't matter who it was, they'd help," Anthony told foxsports.com.au.
It's the beauty of growing up in a football-mad family, who would all travel to watch the two goalkeepers in action as they rose through the youth ranks at Sydney United.
Stream Over 50 Sports Live & On-Demand with Kayo. Join now and start streaming instantly >
The dedication from the Pavlešić clan paid off handsomely: Adam is now the back-up goalkeeper to Andrew Redmayne at Sydney FC and already has a handful of appearances for the Sky Blues to his name.
As for Anthony?
He's rubbing shoulders with his childhood idol and a host of international superstars at Bayern Munich at just 17 years of age.
Maguire pulls through for Man Utd | 00:43
MORE COVERAGE
'Ravaged the carcass': How $248m blunder sent Euro giant spiralling out of control
Kerr just misses out on football's biggest gong as Messi stakes GOAT claim with record win
PL Talking Pts: Rival's stunning admission over Ange genius; takedown exposes Utd crisis
WHY AUSSIE KNEW DREAM MOVE HAD TO 'BE NOW'
Pavlešić was on duty with the Australian U17s earlier this year for a tournament in Turkey when the window of opportunity flung wide open.
His management had been in touch with a contact at Bayern for some time, sending over clips of Pavlešić in an effort to get the teenager a trial.
Given the distance from Australia to Germany, it would have been a difficult ask.
But as soon as the contact became aware Pavlešić was on the continent in Turkey, the Aussie received an invite for a two-and-a-half-week trial with the German giants.
Of course, it had to come with the blessing of the Central Coast Mariners, Pavlešić's team at the time, which it did.
Was it a daunting experience going on trial at Bayern, one of the most successful clubs in world football?
"It was a little bit," Pavlešić said.
"But I think I was ready for it. I was confident.
"I didn't really know what to expect, what level they would be, what the environment would be like.
"But I came off a decent tournament playing two games in Turkey and thought, 'Just give it a crack now, if I'm ever going to be ready, it's going to be now.'
"Physically I was feeling good, my body was in a good place. I just wanted to challenge myself and experience what the level would be like over there, which is where I want to get to."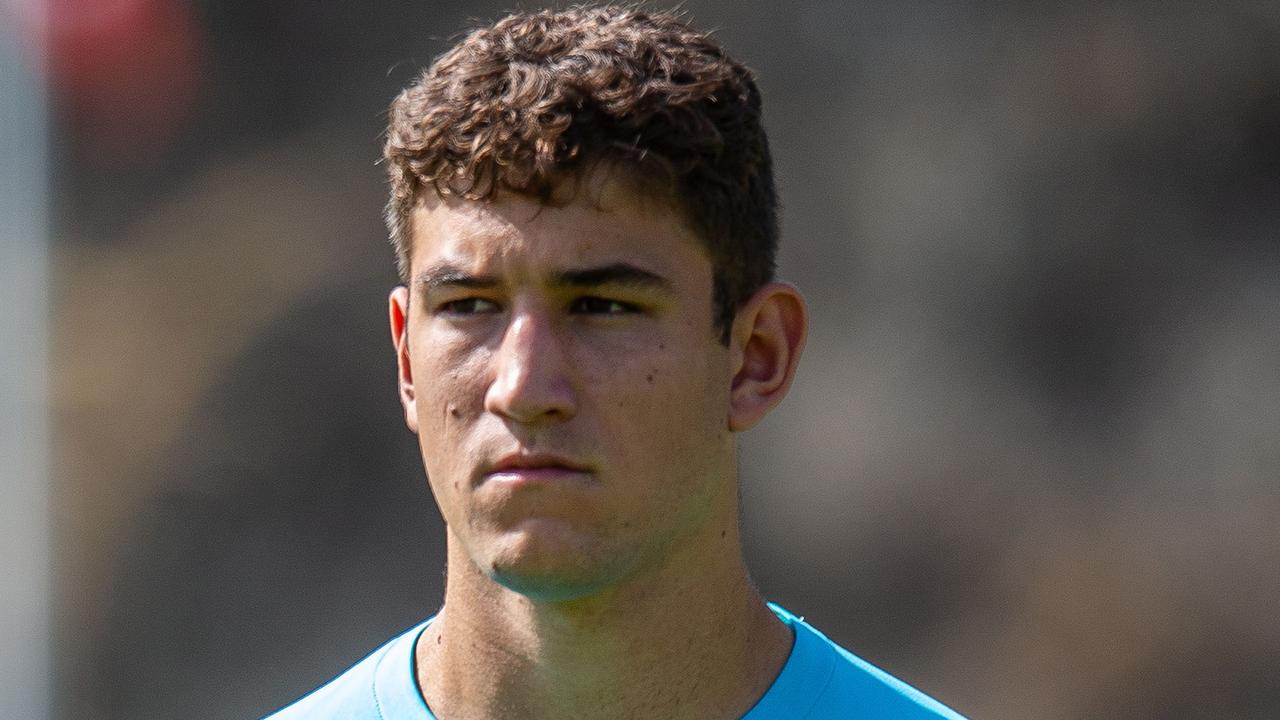 As it transpired, Pavlešić was more than ready for the opportunity and Bayern felt the same as they agreed a six-figure sum with the Mariners to bring the teenager over to Bavaria.
On Pavlešić's part, there "wasn't any hesitation at all" when it came to wanting to move having proved himself capable of performing at the required levels.
But one needs more than talent to make it at a European giant like Bayern, so Pavlešić sought out advice on what to expect from then-Mariners coach Nick Montgomery and goalkeeping coach Miguel Miranda, who had previously worked with Ederson and Jan Oblak.
So, what did Montgomery tell Pavlešić to expect?
"Just the professionalism, the mentality of everyone, the hunger you need to succeed over there and how hard you really have to work," Pavlešić said.
"He (Montgomery) brought those philosophies to Central Coast which helped us succeed. But those things that you need to be a top player, he also had a very good career himself, you listen to his words very closely.
"It helps knowing it all before you go over there, how much harder you have to work than everyone else."
With Montgomery's words of wisdom ringing in his ears, Pavlešić's move to Bayern became official in June.
But the challenges would soon come thick and fast for the young Australian gloveman.
Carpenter unfazed by online critics | 01:54
THE CHANGING ROOM EXPERIENCE WITH IDOL THAT PROVED 'SACRIFICE' HAS BEEN WORTH IT
Moving your entire life to the other side of the world is no small feat for a 17-year-old.
Add in the potential language barrier and it makes it even more difficult.
But Pavlešić was welcomed with open arms to the Bayern campus, a sprawling 30-hectare site which boasts eight football pitches, 35 apartments for academy players not from the local area and several other first-class facilities.
And, perhaps most importantly for Pavlešić's transition to life in Munich, most people speak English.
"Me not knowing any other languages at the moment, if I went there and everyone was only speaking German and no-one was interacting with me, it would have been very different," Pavlešić said.
"I think I've been lucky that I've moved onto Bayern campus. I've got a lot of other players around my age, teams above and below and even players in my team that I'm living with. It helps with relationships early on.
"You're seeing these people all day, every day at lunch, dinner, breakfast. Then you train with them, you go out with them every now and then.
"You need to surround yourself with other people that can take up your time and distract yourself, then try and not think about missing home so much.
"You stay focused on what you're there to do and you realise that's why you've gone and you know the sacrifice of moving from home. It's not easy.
"But I'm lucky that I have good people around me in Munich which helped me over there."
Spoiled with everything he could want for and more when it comes to a footballing experience, Pavlešić couldn't stress just how "surreal" it had all been from the moment he first put on a Bayern training kit and stepped onto the pitch at the campus.
But it gave him a timely reminder he belonged with several of Europe's brightest prospects.
"You feel a part of it, especially after the first few weeks go by," Pavlešić said.
"This is where you are now, you deserve to be there, they signed you for a reason."
As good as he has it now, Pavlešić needs no reminding it might not last forever, so he has to "make the most of it" while he is still at the club because "things can change very quickly."
If Pavlešić hadn't pinched himself enough during his first few weeks in Bavaria, the rush of a lifetime was still yet to come.
Bayern had just beaten Manchester United 4-3 in a scintillating Champions League clash at the Allianz Arena and those who started were afforded a day off from training.
To help make up the numbers a handful of Bayern youth players were invited for a training session with the first team, including Pavlešić.
Also taking part in the session was modern legend Thomas Muller, electric winger Kingsley Coman and teenage sensation Mathys Tel, who joined Bayern in the summer from Rennes.
At times during various drills, Pavlešić couldn't help but admire the "art" that was unfolding in front of his very eyes.
"The first few times you see them, especially in the first few drills, you don't know what to expect and you don't know what the level is going to be of these guys," Pavlešić said.
"But all the small details that you're told as a kid or some players skip on, these players have everything.
"Their touch, their awareness, it's all there. It's like art.
"How good they are at what they do and every small detail they're really focused on, it was really cool to see."
Pavlešić also noted the breakneck pace at which these players do everything.
"If you're not as good at something, especially as a goalkeeper, they can expose you," Pavlešić said.
"The shots are so much harder and quicker. Time on the ball is so much less.
"You have the ball at your feet, you're getting pressed a second later."
Although Pavlešić was thrown very much into sink-or-swim territory in that training session with the first team, he received a few early pointers from a 37-year-old goalkeeper who calls Bayern home: Manuel Neuer.
With over 300 appearances for the Bundesliga giants and 117 games for Germany, Neuer is one of the greatest goalkeepers of the modern era.
He's also Pavlešić's idol.
And you best believe the Aussie had to do everything in his power not to have a fanboy moment in front of the four-time FIFA World 11 goalkeeper when they first met.
"It was surreal when I first met him," Pavlešić said.
"I think it was when I first walked into the changing rooms. He was there.
"I walked over to introduce myself and said hello. That was pretty much it for then.
"But then you walk around for the next few minutes, you're just trying to keep it together. It was really good.
"Then you go out and start training and you're in awe of how good he really is and how nice he was as well.
"He was helping me a little bit and talking to me, he spoke really good English and helped me out."
But as jaw-dropping as it has been to rub shoulders among Bayern's big names, Pavlešić knows he can't allow himself to continually be starstruck.
"Part of being a good professional is that you have to realise you're there for a reason," Pavlešić said.
"As much as it's really cool to be there and to see everyone, all of these professionals that you looked up to your whole life, you know you're there for a job and you're there to train and you have to be one of them."
WHY NEXT GEN OF AUSSIES CAN QUASH 'DISADVANTAGED' NOTION
Unfortunately for Pavlešić, it took some time before he was able to make his debut due to paperwork issues that had yet to be resolved with FIFA.
But since then, he has made five appearances for Bayern's under-19 side including a UEFA Youth League fixture away to Galatasaray and also played for Bayern's reserve team in the German third division.
Pavlešić also was a part of the Young Socceroos team that beat France, the Netherlands and Denmark at the Marbella Week of Football earlier in October, with each win coming via penalty shootout.
A victory over one of those nations would have been impressive on its own, let alone three wins from three.
But Pavlešić believes it's yet another sign the next generation of players from Australia are not there to take part, but to take over.
"It just shows what we can do," Pavlešić said.
'Grumpy' Ange not concerned with history | 01:54
"People underestimate what we do because we're from Australia, but under the right circumstances with a good team and good staff, we can be beating these top international teams."
Future success at these types of tournaments for the Young Socceroos will only attract interest from clubs of a similar standing to Bayern.
It's why Pavlešić doesn't expect he'll be the last to join the ranks of a European behemoth.
"It shows that coming from Australia doesn't make such a big difference," Pavlešić said.
"People think we're very disadvantaged in Australia, but we have a decent youth system now and we can produce some good players.
"If clubs like Bayern Munich are coming after me and other players are going to other clubs, it gives us all confidence knowing that we have the ability.
"Some of us that are lucky enough get the opportunity, but we're good enough to be in these places so it gives us a lot of confidence."


Read More:'Trying to keep it together': Inside eye-opening rise of Aussie teen who wowed Euro