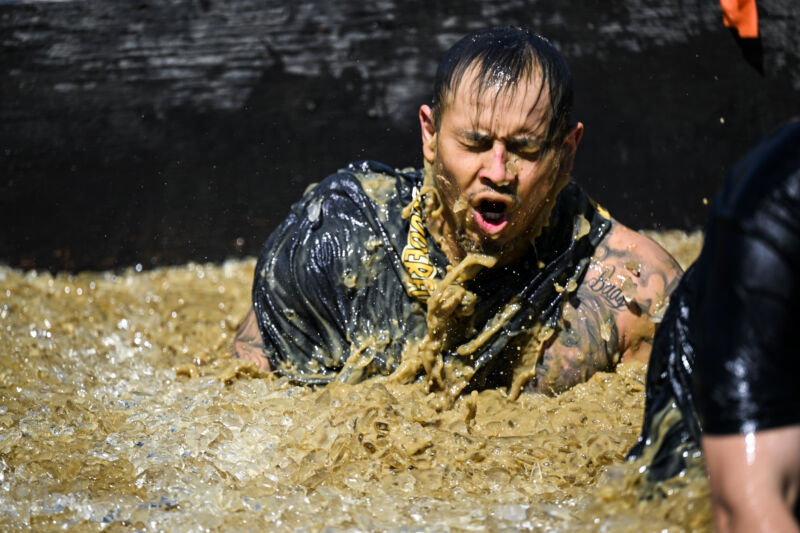 Hundreds of people who participated in a recent Tough Mudder event—a very muddy obstacle course race—held in Sonoma, California, have fallen ill with pustular rashes, lesions, fever, flu-like symptoms, nerve pain, and other symptoms, local health officials and media outlets report.
The cases could be caused by various infectious agents, including Staphylococcus bacteria, but the leading culprit is the relatively obscure Aeromonas bacteria—specifically A. hydrophila, according to the Sonoma County health department. In a statewide alert this week, the California Department of Public Health said it is considering it an Aeromonas outbreak, noting that multiple wound cultures have yielded the hardy bacterium.
A spokesperson for the Sonoma County health department told the Los Angeles Times on Thursday that, based on calls and emails the department had received, health officials estimate that the outbreak involves around 300 cases. Tough Mudder participants, meanwhile, have tallied as many as 489 cases in online forums.
The Tough Mudder event was held at the Sonoma Raceway on August 19 and 20, 2023, with symptoms of infection developing in cases within 12 to 48 hours afterward.
The Sonoma County health department advisory noted that the race "involved extensive skin exposure to mud" and that participants with a rash, fever, or other symptoms should go to their health care provider or, if no provider is available, to a local emergency department.
Robust bacteria
While Tough Mudder events, held all around the country, challenge participants to be rugged and resilient as they traverse mucky obstacles, the toughest mudder is, without question, A. hydrophila. This is a rod-shaped, gram-negative bacterium that lives in aquatic environments and soil. It infects almost everything—humans, animals, birds, fish, and marine reptiles, according to a pathogen data sheet from the Canadian government. And it can be found almost everywhere—water, soil, mud, fresh produce, meat, and dairy products.
It's a significant plague in fish, causing sores, ulcers, and a fatal septicemia that affects carp, tilapia, perch, catfish, salmon, and other fish. In all, the bacterium causes substantial economic losses to aquaculture worldwide. In humans, Aeromonas have often been considered a cause of gastroenteritis. But it can cause everything from traveler's diarrhea to soft-tissue infections, necrotizing fasciitis, and sepsis.
Despite Aeromonas's hardiness and ubiquity, it wasn't identified as a human pathogen until 1968. And researchers are still unraveling A. hydrophila's seemingly indiscriminate ability to cause nasty infections. The germ has an impressive arsenal of virulence factors, including multiple toxins and three types of bacterial secretion systems used to evade and disarm host defenses. Almost all are resistant to multiple antibiotics, including penicillin, ampicillin, amoxicillin, ticarcillin, carbenicillin, and cephalothin.
For this outbreak, California's health department noted that, so far, it seems the bacteria involved are susceptible to several antibiotics, including ciprofloxacin, doxycycline, and trimethoprim-sulfamethoxazole.
The Sonoma event was reported to include 21 obstacles on one of the race days, including a mud-soaked crawl under barbed wire, rope climbs over a muddy slope, a knee-deep mud pool to wade through, and an obstacle called the "mine shaft" that one participant said smelled like manure.
A spokesperson for Tough Mudder told CNN that the company was working with local health officials on the investigation into the outbreak and communicating with participants and spectators.
"All necessary protocols were followed in preparation for, and during, the event," the spokesperson said. "Our thoughts are with those affected and we are actively investigating to understand exactly what occurred."


Read More:Hundreds of Tough Mudder racers infected by rugged, nasty bacterium – Ars Technica