Google might have a great idea for smart home automation—if it sticks to it – Ars Technica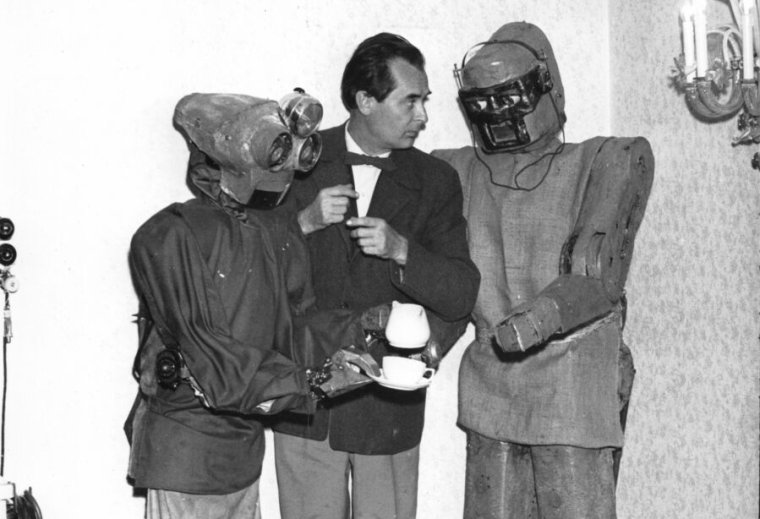 Google today released a new Android OS with some modest improvements, a smartwatch with an old-but-still-newer chip, and a Pixel 8 whose biggest new feature is seven years of updates. But buried inside all the Google news this week is something that could be genuinely, actually helpful to the humans who get into this kind of gear—help for people setting up automations in their homes.
It's easy to buy smart home gear, and it's occasionally easy to set it up, but figuring out all the ways that devices can work with one another can be daunting. Even smart home systems with robust scripting abilities mostly let users develop great ideas for connecting two or more devices. That's where, according to Google, AI can help.
Google says it will use AI (the company's broad definition of AI, at least) at two different levels. At an app level, Google Home can start condensing all the notifications from cameras, sensors, and other devices into a streamlined summary, patched together by generative AI, and which you can respond to with natural language.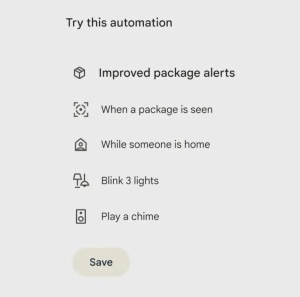 What caught my attention was not the fact that your doorbell camera can recognize a package or that you can ask about it in English text—that's a pretty standard Nest/Google/AI feat by now. What's neat is that the Home app will now suggest automations that can follow from recognizing that package. In Google's example, you could have certain lights in your home blink three times and have speakers play a chime—but only if somebody is home. (Presumably, you could set up an alternate notification solution for when you're away.)
Earlier this week, Google announced another way that AI could help even seasoned smart home enthusiasts get more control. "Help me script" is a code automation tool that turns natural language—like, "When I arrive home and the garage door closes, turn on the downstairs lights"—into Google Home scripts. You might not have known that Google Home has a script editor or a Web interface, but it does, at least in a "Public Preview."
"Help me script" is due to arrive "later this year in Public Preview," while the app-based AI routine starters are an "experimental feature" that will be "rolling out" to (presumably Nest) subscribers next year. Google's presentation, as is typical of Google generally, has fuzzy timing and availability details, so it's hard to say whether the app-based automation AI will remain a subscriber-only feature.
It would be great to see Google—or any major hub maker in the smart home space—push automation and routine discovery forward, be it through generative AI or just smart code. Buying a light bulb that can be controlled by Bluetooth, Wi-Fi, Zigbee, or even Thread is something you can do at Home Depot. The same goes for motion sensors, sprinkler controllers, and many other gadgets. Hooking them up to Google Home, Alexa, Apple's Home, or Home Assistant varies by device and system but should be achievable. Matter, which promised to make that last bit easier, hasn't done so, but maybe give it more time.
Once you've got a bunch of things that you can toggle and control from a phone or a speaker, what then? What should these things do when you're not looking? What would be the most helpful routine you might not have thought of—perhaps one that owners of similar devices have set up?
I thought of this recently when a few friends visited my house. I set up a motion sensor in my entryway, had a smart deadbolt in the door, and replaced the bulbs in two recessed fixtures with smart Wi-Fi bulbs. Using Home Assistant, I set up the area with a few rules:
When the door unlocks, the lights turn on for three minutes.
When motion is detected, turn on the lights until a presence is no longer detected
Don't turn on the lights for motion after 11pm; only door locks (roaming cat rule)
If the lights turn on three times within five minutes, keep them on for 10 minutes
One friend played right to my nerdy ego and expressed admiration for the work. The friend then asked how they could get a similar setup at their house, and perhaps even for their backyard. I listed the brands of gear I'd bought and the particular timings. "Okay, but how do I set all that up without flying you to my house?" my friend asked. I was, again, flattered, but at the same time, I realized how much easier acquisition is than setup these days.
Most home apps—including those from Google, Amazon, and Apple—are annoying to use for automations. Apple's Home demands you have a HomePod or Apple TV on your network before you can even start messing with automations. Google and Alexa routines tend to lean on you saying things to their assistants and speakers, and they don't reach into the deeper aspects of most devices for triggers and actions.
The first Automation prompt for Home Assistant.

What are all these things? How do they work? How much time do you have?

Here's what a working automation looks like when it's (mostly) working. There's a lot to unpack inside each bit.
Home Assistant, of course, gives you a blank slate for automations and routines, but it is likely a bit too blank for anyone not willing to do a lot of reading and experimentation. Even with years of experience using it, I regularly hit a wall with some of my ambitions or discover new ways of achieving things that are at once impressive and mystifying. Setting up a "Turn on my porch light at sunset" trigger led to the discovery that, actually, "sunset" is more of a concept involving sun angle, elevation, topography, and other variables, so you should set up that light based on an offset angle of the sun.
There's a community of blueprint submissions, but these are a loose pile and provided as YAML code for your tinkering. I've read a lot of docs, tinkered with entity variables, played with Node-RED, and generally gotten my gear into some useful configurations. But there have to be many ways to make connecting your smart home gear far easier.
You can make home automation easier on yourself in the short term by buying into a customized total-home system, the kind installed by contractors and controlled with wall-mounted tablets. Or you can buy only devices from within one company's ecosystem. Or you can stick entirely to things that happen to work with your preferred home app provider. But betting on one company to always be there for you is not something we generally recommend.
This is why the idea of Google—or any company—offering help with the deeper and more difficult parts of a smart home setup is so intriguing to me. There's a lot of variables involved with Google delivering this kind of technology, making it widely available, and sticking to it. But offering any kind of help with automation ideas, discovery, and deeper connections is better than what most people get today.
Listing image by Gamma-Keystone via Getty Images


Read More:Google might have a great idea for smart home automation—if it sticks to it – Ars Technica