By Chung Li-hua and Jake Chung / Staff reporter, with staff writer and Reuters
China's forecast economic growth of 5 to 6.1 percent this year is based on "zombie economics," as the economy is only being "kept alive" by bank loans and government debt, a report compiled by the Chung-Hua Institution for Economic Research said.
China's internal consumption, overall investment and exports have all slowed, according to the report, tendered to the Mainland Council Affairs and compiled by assistant researcher Wang Kuo-chen (王國臣).
China's domestic GDP in the second quarter grew 0.8 percent compared with the previous quarter, the report said.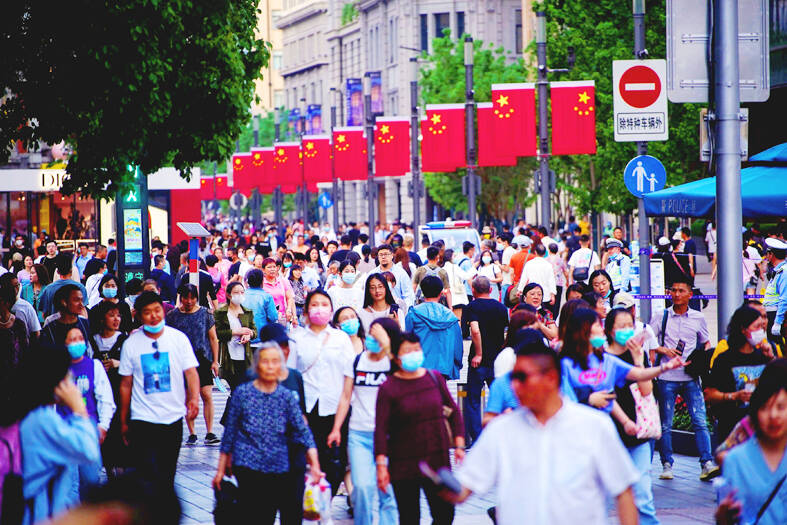 Photo: Reuters
Wang's report said that China is facing economic stagnation after its strict "zero COVID-19" policies, lifted late last year, exacerbated an already uneasy economic situation, as a growing wealth gap further inhibited weak domestic consumption.
China's consumer confidence index dropped from 82.3 in April to 69.1 in June, while consumer price index growth in June was nearly zero and the producer price index has reported negative growth for nine consecutive months, he said.
The second half of this year is not likely to be better than the first, due to a diminishing base period effect from COVID-19 lockdowns in Shanghai last year, a general slump in the global economy and US restrictions on Chinese tech, the report said.
China is facing deflation, it said.
A cooling global economy, along with destocking and tech restrictions have severely affected China's exports, with June imports and exports falling 12.4 percent and 6.8 percent respectively from a year earlier, Wang said.
High-tech and new technology imports fell 16.8 percent year-on-year, while exports fell 10.4 percent.
Weak domestic consumption and slumping exports have made it difficult for Chinese companies, as industrial firms reported an 18.8 percent annual slump in profits for the first five months of this year, the report said.
Wang said that a recovery in the second quarter was weak due to tightening financial and monetary policies.
Beijing is continuing to lower its bond yield rates to reduce local government financial burdens, but that has forced the yuan to depreciate, he said.
China could achieve its forecast economic growth this year, but the policies used to achieve such goals cannot continue indefinitely, he added.
On Thursday, US President Joe Biden called China a "ticking time bomb," because of economic challenges including weak growth.
"They have got some problems. That's not good because when bad folks have problems, they do bad things," Biden said at a political fundraiser in Utah.
"China is in trouble," he added.
The remarks drew a sharp response from Beijing.
Chinese embassy spokesman Liu Pengyu (劉鵬宇) said that Washington was "scapegoating" Beijing and fanning "division and confrontation."
"We oppose the US side seeking to make an issue of China, smearing China or talking down China's prospects," he said in a statement on Friday, without mentioning Biden.
White House spokesperson John Kirby on Friday said that Biden's "ticking time bomb" comment referred to internal economic and social tensions that could have an effect on how Beijing interacts with the world.
Kirby said that one area of concern regarding China was "the way that they bully and coerce and intimidate countries around the world" by offering high-interest infrastructure loans and then seizing assets when countries default.
Comments will be moderated. Keep comments relevant to the article. Remarks containing abusive and obscene language, personal attacks of any kind or promotion will be removed and the user banned. Final decision will be at the discretion of the Taipei Times.


Read Nore:Beijing employs 'zombie economics': report – Taipei Times